Eric Garcetti is visiting Sunland-Tujunga again to meet with locals, hear their concerns and share his vision as Mayor of Los Angeles.
At a time where business in our community has languished,
communities in Eric's council district have prospered
. In fact, his District has been rated nationally as one of the best managed. Take a look at areas such as Silver Lake, Los Feliz, Atwater Village - all are Foothills communities like Sunland-Tujunga, who suffer at the hands of Downtown as much as we do, all quiet locales where residents want to protect their way of life. In recent years, these communities, some of which were really slums, have seen a rebirth of small business - great restaurants, art galleries, little shops and other services. All on Eric's watch. On the other hand, take a look at communities within Eric's opponent's former Council district - Foothill Boulevard, Van Nuys, Valley Plaza - all have seriously declined during the Greuel years. Something has to give, right?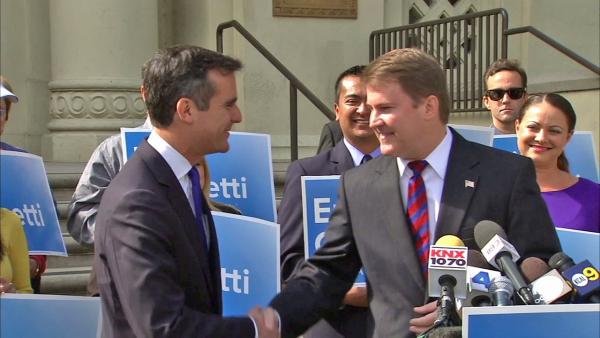 Kevin and Eric will be there!
Because Eric knows what it takes to make communities work, he'll protect our community and work with locals to get the job done. Indeed, already a number of Eric's staffers are Foothills/Sunland-Tujunga residents. Many local leaders are supporting Eric because they are disappointed in Wendy Greuel's performance. Most recently, Eric has been a strong supporter of the Verdugo Hills Golf Course - he was Council Member Alarcon's seconder on the motion to designate the site a historic landmark and is supporting this effort.
Join us at the legendary Joselito's!
Your best bet though is to come and hear Eric and ask him yourself!
Join Eric with special guest and Sunland-Tujunga favorite Kevin James in Tujunga
for a rally this Saturday, April 20th from 2:30 p.m. to 4:00 p.m. at Joselito's Mexican Restaurant!